No wonder Jarmusch's films bring boredom. In the post-industrial spaces of Ohio in the 1970s, where the director of Stranger Than Paradise grew up, there was still an aura of former wealth, reflected in gargantuan-sized buildings and factories falling into disrepair. Cleveland and the surrounding towns – including Akron, Jarmusch's hometown – were rapidly deserting. It was possible, of course, to turn this experience into the observational style à la Frederick Wiseman, but young Jim Jarmusch found an element of comedy in the miserable U.S.
Kabuki sitcom
His directorial style did not have to hatch. From the very first film – Permanent Vacation, made for over a dozen thousand dollars – Jarmusch became known as a fan of a fuzzy narrative, in which all dramatically important elements had been left out. There are no turning points, changes in pace and no starting or reaching points. What's left at the post are simple camera shots that last so long they evoke a smile of disbelief among the audience.
J. Hoberman, in his review of Stranger Than Paradise, called this peculiar technique a "kabuki sitcom" – the immobilization of the camera that stares at the characters, who perform ordinary activities as in a pastiche of American television: they eat TV dinners, drink coffee and smoke cigarettes, they drive taxis. In the long wait for action, a shtick is born. The center of which are mundane dialogues spoken with an expression inadequate to the actors' emploi. The static nature of the composition, the precision of the witty dialogue and the unique comedy pace (definitely unhurried) have been appreciated by such titans of the genre as Brad Bird (The Incredibles) and Paul Feig (Bridesmaids). Stranger Than Paradise remains a model for Jarmusch's comedy, which will sweep through many of the director's later works – Down by Law, Night on Earth, Coffee and Cigarettes or The Limits of Control. There is something immensely funny about RZA from Wu-Tang Clan complaining about the harmfulness of caffeine or Winona Ryder as a messy, no-nonsense taxi driver, who dreams of being a car mechanic.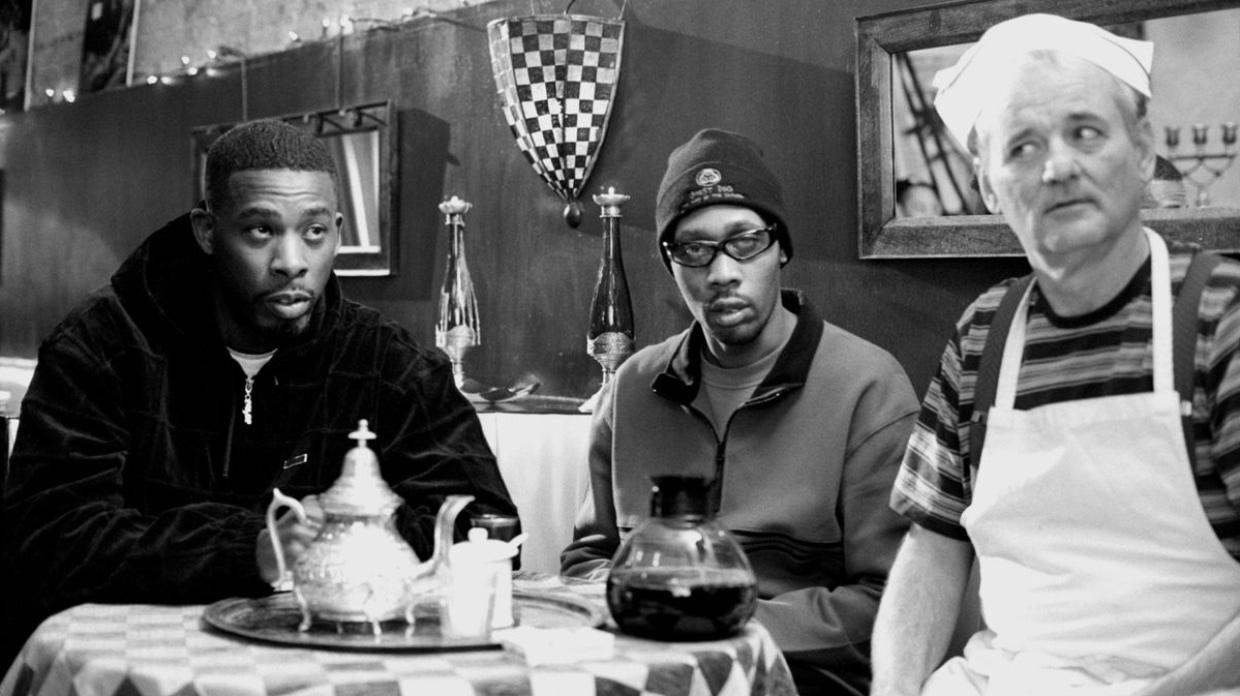 Coffee and Cigarettes, dir. Jim Jarmusch
In his comparison, Hoberman boldly combines two aesthetic canons and finds the key to Jarmusch's early work, which at the same time contained an interest in low quality, "lost" North America and modernist high art, or – as Jarmusch himself would say – "Ozu and The Honeymooners". Perhaps that is why he is able to make both a film haunted by the ghost of Elvis Presley (Mystery Train), a somewhat bored western (Dead Man), as well as a portrait of a 90s American samurai (Ghost Dog: The Way of the Samurai).
Exactly like paradise
North America in the lens of U.S. filmmakers has a special property – no matter what condition it is in, it will always be eye-catching and awaken dreams of interstate journeys. Even the most staunch U.S. critics like Gregg Araki, Harmony Korine, Robert Altman and Nicholas Ray echo this fixation caused by a fascination with kitschy pop culture, national pathos or the scale of disasters.
Jim Jarmusch has never been seen as cutting to his own culture – he accepted it with good faith, warmly welcoming its advantages and disadvantages. Perhaps it was this approach – of a kind, though not naive, artist – that allowed him to discover an inalienable and at the same elusive component of Americanness: boredom.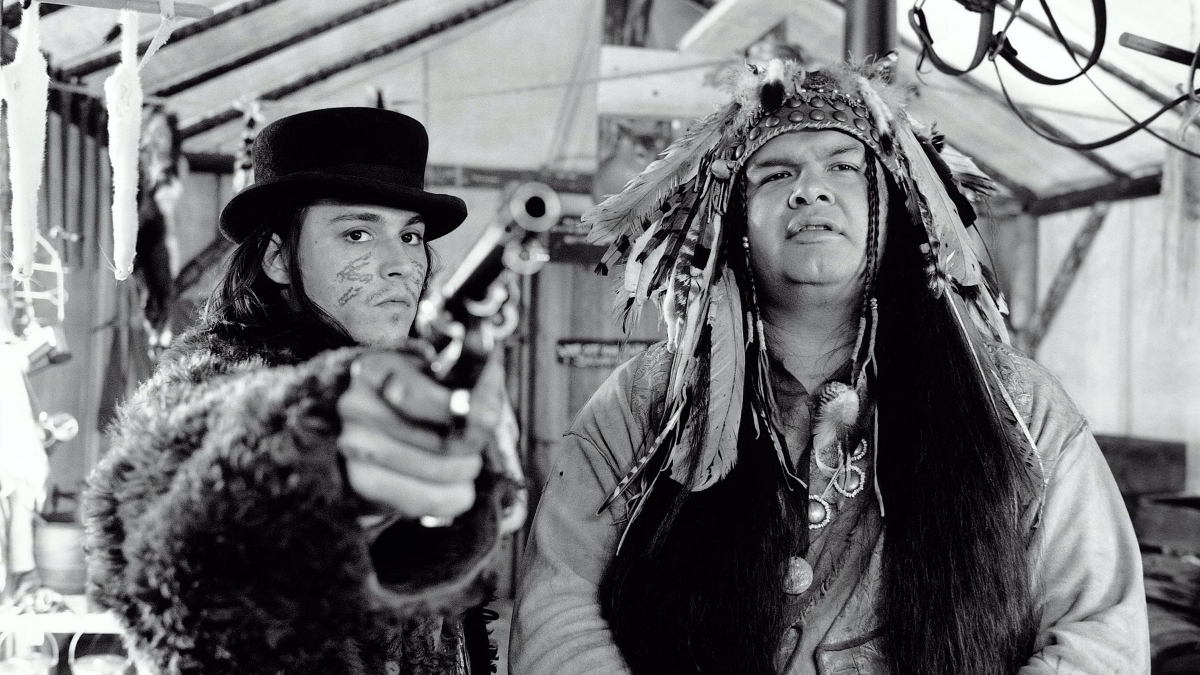 Dead Man, dir. Jim Jarmusch
Boredom is not just a means of expression for Jarmusch. Its lure and charm in the films of the creator of the Night on Earth is not only inspired by the masters of modernist cinema, but simply by noticing it in American everyday life – in banal, small-town life (Paterson), the generality of the city bustle (Permanent Vacation), car culture (Stranger Than Paradise), the endless monotony of landscapes (Dead Man). Jarmusch's America is neither pretty nor ugly – it's as obvious as a pot of coffee, a yellow cab and a Texan accent.
Poetry and sound postcards
Sofia Coppola called Stranger Than Paradise a collection of postcards – simple compositions, shots that are instantly memorable. The film features the noir ballad I Put a Spell on You performed by Screamin' Jay Hawkins several times. Its fan is Eva, the protagonist of the film and the owner of an old tape recorder, the mechanics of which give the song a rough charm. Many of Jarmusch's films are inaugurated by atmospheric music straight from the old jukebox (Richard Berry's Louie Louie in Coffee and Cigarettes, Back In The Old World (Gypsy) in Night on Earth or Jockey Full Of Bourbon in Down by Law – both by Tom Waits), defining the temperament and instantly describing the character of the presented microcosm. Glued to individual scenes or sequences, it creates sound postcards – picturesque, sometimes even turpism-like impressions that flawlessly find their way to the cluster with iconic film memories.
To achieve a similar rough quality, Jarmusch, a music lover and musician, from the beginning of his film career employs indie music stars as actors – people with interesting faces and particular ways of being, who discuss the Tesla transformer (The White Stripes in Coffee and Cigarettes), interpret the Bible by the fire (Iggy Pop in Dead Man) or they run a hideous hotel in Memphis (Screamin 'Jay Hawkins in Mystery Train) and they look insanely funny doing it.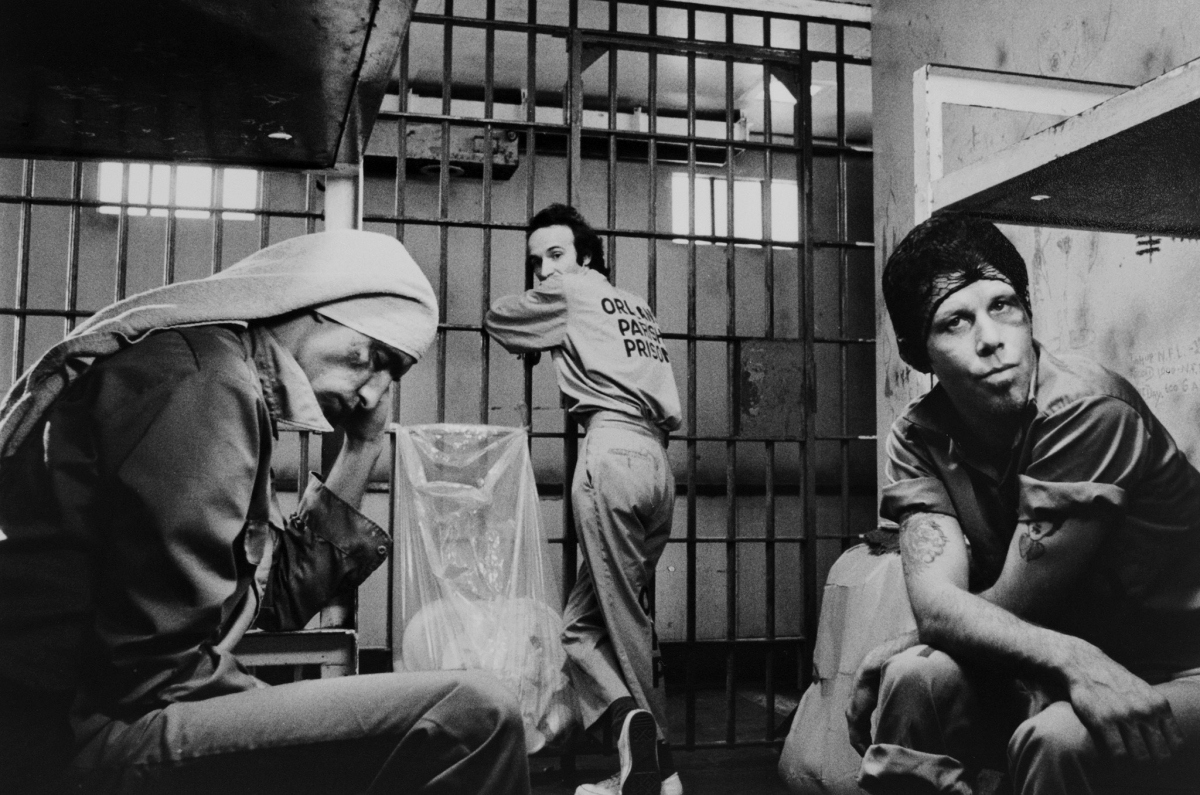 Down by Law, dir. Jim Jarmusch
There is a certain poetry in the selection of these non-canonical faces and postures – similar to a white poem untamed by clever ornaments, consisting of accurate, though peculiar, aesthetic choices. Literature, in general, is the matrix through which Jarmusch looks at the world. On one hand, poetry and its non-narrative way of presenting the world, penetrating intensely into individual moments-images, on the other, prose and its contemplative dimension, which seduces even the most, seemingly cliché figures of American cinema: the gangster (Ghost Dog: The Way of the Samurai) and the vampire (Only Lovers Left Alive).
Jarmusch once said of himself that he tries to look at the U.S. through the eyes of a foreigner; a little European, a little Japanese. Perhaps, although in my opinion it is the look of a marauder who quickly misses home during his dream long journeys and doesn't really hide it. This simplicity allows the creator of Dead Man to look for a philosopher in a gangster, a humanist in a vampire, an experienced medic in a rapper, and an outstanding poet in a bus driver. They all bring to life this colossus on clay legs that is (and has been, for several decades) the United States. The early films of the master of American indie – the most raw and uncompromising ones, from before the visual splendor of Only Lovers Left Alive or Paterson – prove that Jim Jarmusch and U.S. cinema are a combination of coffee and cigarettes: sometimes bitter and perverse, but in a sense perfect.
Patrycja Mucha
Selected filmography
1980 Permanent Vacation
1984 Stranger Than Paradise
1986 Down by Law
1989 Mystery Train
1991 Night on Earth
1995 Dead Man
2003 Coffee and Cigarettes