US in Progress Wrocław 2018
Projekty uczestniczące w US in Progress Wroclaw 2018:
Crestone, reż. Marnie Ellen Hertzler

Initials S.G., reż. Rania Attieh i Daniel Garcia

Knives and Skin, reż Jennifer Reeder

Once Upon a River, reż. Haroula Rose
False Positive, reż. Kasia Płazińska

My Personal Jesus, reż. Ewa Wikiel

Neon Tears, reż. Karolina Bielawska

Sara, reż. Jan Komasa.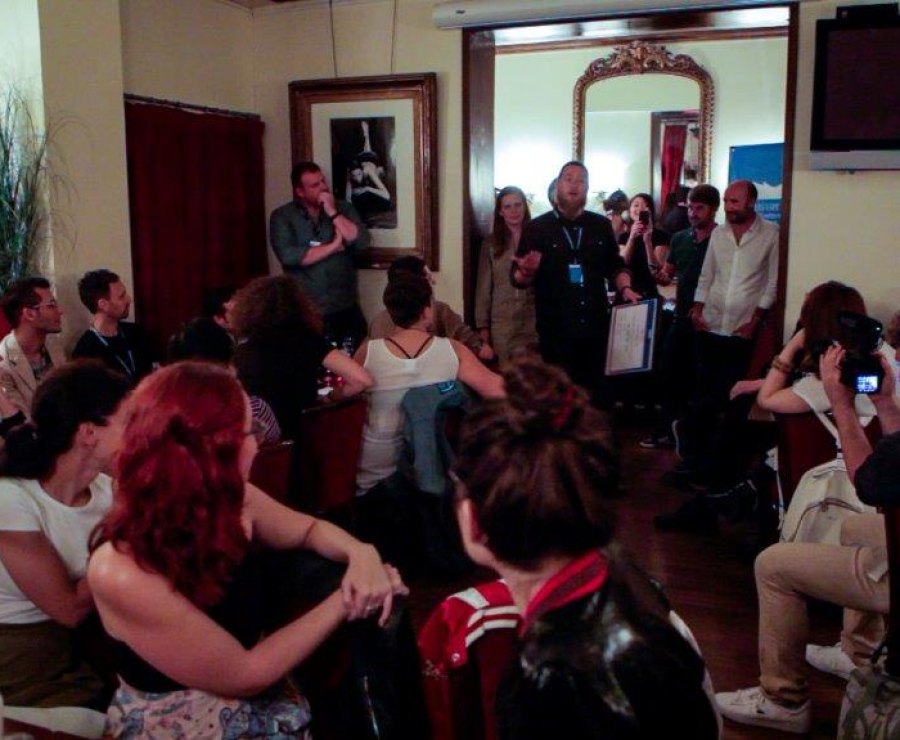 US in Progress Paris 2018
512 Hours with Marina Abromovic, reżyseria/produkcja: Giannina La Salvia and Adina Istrate, produkcja: Giacomo Boeri
For Entertainment Purposes Only, reżyseria: Colin Healey, produkcja: Ian Bell, Dave Schachter, Mary Ashton Burgh, Mark Myers, Jessica Kingdon, Alex Megaro
Pahokee, reżyseria/produkcja: Ivete Lucas and Patrick Bresnan, produkcja: Maida Lynn
Sanzaru, reżyseria: Xia Magnus, produkcja: Alyssa Polk, Anthony Pedone, Kenny Riches
The Ghost Who Walks, reżyseria: Cody Stokes, produkcja: Daniel Gartner, Frank Mosley, David Johnson (EP)
The Plagiarists, reżyseria: Peter Parlow, produkcja: James N. Kienitz Wilkins, Paul Dallas
The Short History of the Long Road, reżyseria: Ani Simon-Kennedy, produkcja: Kishori Rajan
This Body, Too, reżyseria/produkcja: Arisleyda Dilone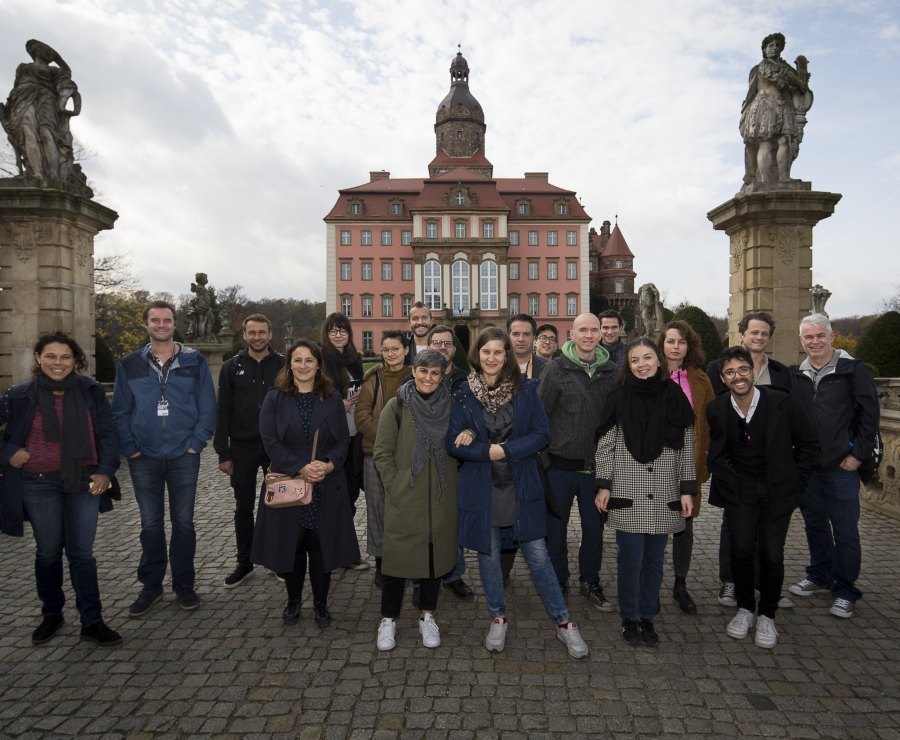 USinP Wrocław 2017
Ghost Box Cowboy directed by John Maringouin, produced by George Rush and John Montague
One Man Dies a Million Times directed and produced by Jessica Oreck
Jules of Light and Dark directed by Daniel Laabs, produced by Jeff Walker and Judd Myers
Honky Kong directed by Stephen Gurewitz, produced by Nathan Silver
Polish Projects pitched:
Neon Tears by Karolina Bielawska,
Pilot 9/11 by Norman Leto,
A Film Odyssey by Piotr Stasik,
Lipstick on the Glass by Kuba Czekaj.
Additional Polish Participants:
Bartek Bartos (director, producer), Bounty, Manifiesta
Justyna Guziec (producer) , Maddy 12 and a Half, Last Moment Production
Magda Jaworska (producer), Safe Inside, Baboo Production
Malgorzata Koziol (producer), Pollywood/Desert Coffee/ Where is Anna/The Lonely Child, East Beast
Alessandro Leone (producer) Merry Devil's Friend, Agresywna Banda
Laura Pawela (producer), Pink Horizon, Fundacja Komunikacja Kultury
Marta Szarzynska, Flesh, Bui Film
Malgorzata Wabinska, Sound Man / Diagnosis, Entertain Pictures
Aleksandra Wojtaszek, Christmas Wish, touchFILMS
Artur Wyrzykowski, Gingers, Countless Amounts of the Brightest Colors, Artcore
USinP Paris 2017
Film: ABOUT A MOUNTAIN (Documentary)
Director: Lily Henderson
Producers: Keith Miller, Joey Carey, West McDowell
Film: HUMAN AFFAIRS (Drama)
Director: Charlie Birns
Producers: Krista Parris, Charlie Birns
Film: THE PERVERT (Drama)
Directors: Jack Dunphy, Nathan Silver
Producers: Matthew Ellison, Steven Hudosh, Nick Rafferty
Film: THE RAINBOW EXPERIMENT (Drama)
Director: Christina Kallas
Producer: Allison Vanore
Film: WILD NIGHTS WITH EMILY (Comedy)
Director: Madeleine Olnek
Producers: Casper Andreas, Max Rifkind-Barron, Anna Margarita Albelo, Madeleine Olnek
USinP Wrocław 2016
FILM : 20 WEEKS (Drama) – 2nd feature film
DIRECTOR : Leena Pendharkar
PRODUCERS : Jane Kosek, Renuka Pullat
FILM : AN AMERICAN IN TEXAS (Coming of age) – 2nd feature film
DIRECTOR : Anthony Pedone
PRODUCERS : Bianca Butti, Anthony Pedone, Dan Levin, Kenny Riches, and Darko Lungulov
FILM : DESOLATION (Thriller) – 1st feature film
DIRECTOR : David Moscow
PRODUCERS : Gregory Thomas, Luke Edwards
FILM : LA BARRACUDA (Suspense) – 2nd feature film
DIRECTORS : Julia Halperin, Jason Cortlund
PRODUCERS : David Hartstein, Nancy Schafer
FILM : SAVAGE YOUTH (Drama)- 2nd feature
DIRECTOR : Michael Curtis Johnson
PRODUCERS : Michael Peluso, Charlene Lee, and Jenny Napier
FILM : THE INHERITANCE (Drama)
DIRECTORS : Laura Davis, Jessica Kaye
PRODUCERS : Beatrice von Schwerin, Mark Webber, Steven Berger, Aengus James, and Colin Miller
FILM : MENASHE (Drama)
DIRECTOR : Joshua Z.Weinstein
PRODUCERS : Alex Lipschultz, Traci Carlson, Joshua Z. Weinstein, Yoni Brook, Danny Finkelman, and Danelle Eliav
FILM : WESTERN WONDERLAND (Fairytale revenge western)- 1st feature film DIRECTOR : Reza Sixo Safai
PRODUCERS : Reza Sixo Safai, Malcolm Granath
USinP Paris 2016
FILM : CALIFORNIA DREAMS (Hybrid doc narrative) – 6th feature film
DIRECTOR : Mike Ott
PRODUCERS : Nicole Arbusto, Alex Gioulakis, Heika Burnison
FILM : EASY LIVING (Drama) – 1st feature FILM
DIRECTOR : Adam Keleman
PRODUCERS : Laura Wagner
FILM : EVERYTHING BEAUTIFUL IS FAR AWAY (Pop-art sci-fi) – 1st feature film
DIRECTOR : Andrea Sisson and Pete Ohs
PRODUCERS : Saul Germaine, Andrea Sisson and Pete Ohs
FILM : OTTO – MY LIFE IS A SOUNDTRACK (Drama) – 1st feature FILM / Winner USIP Paris
DIRECTOR : Margarita Jimeno
PRODUCERS : Margarita Jimeno, Andrew D. Corkin and Sol Bondy
FILM : ACADEMY (Documentary)
DIRECTOR : Brent Chesanek
PRODUCERS : Andrew D. Corkin and Andrew Renzi
FILM : WHIRLYBIRD (Documentary)
DIRECTOR : Matt Yoka
PRODUCERS : Steve Holmgren, Erin Lee Carr, Matt Radecki and Greg Lanesey
USinP Wrocław 2015
FILM : Actor Martinez (Comedy) – 1st co-directed feature FILM
DIRECTORS : Nathan Silver and Mike Ott
PRODUCERS : Britta Ericksson, Katie Shapiro, Heika Burnison
FILM : Alaska is a Drag (Dramedy) – 1st feature FILM
DIRECTOR : Shaz Bennett
PRODUCERS : Melanie Miller, Diane Becker, Shaz Bennett
FILM :The Alchemist Cookbook (Drama) – 3rd feature FILM
DIRECTOR : Joel Potrykus
PRODUCERS : Andrew D. Corkin, Bryan Reisberg, Joel Potrykus, Ashley Young
FILM : Americana (Drama) – 1st feature FILM
DIRECTOR : Zachary Shedd
PRODUCERS : Daniel Patrick Carbone, Lisa Kjerulff, Matthew Petock
FILM : The Loner (Thriller) – 1st feature FILM
DIRECTOR : Daniel Y-Li Grove
PRODUCERS : Seth Caplan, Reza Sixo Safai
FILM : It Had To Be You (Romantic Comedy) – 1st feature FILM
DIRECTOR : Sasha Gordon
PRODUCERS : Rachel Brenna, Benjamin Kruger, Richard Arlook, Levi Abrino, Victor Magro
USinP Paris 2015
FILM : Another Evil (Supernatural Comedy) – 1st feature FILM
DIRECTOR : Carson D. Mell
PRODUCERS : Riel Roch Decter & Sebastian Pardo (MEMORY)
FILM : Live Cargo (Drama) – 1st feature FILM
DIRECTOR : Logan Sandler
PRODUCERS : Thymaya Payne & Mortimer Canepa
FILM : Diverge (Science-Fiction/Thriller) – 1st feature FILM
DIRECTOR : James Morrison
PRODUCERS : Noah Lang, Matthew Smaglik & David Mendel
FILM : AWOL (Drama) – 1st feature FILM
DIRECTOR : Deb Shoval
PRODUCERS : Noah Lang, Matthew Smaglik & David Mendel
FILM : QUEEN OF GLORY (Comedy) – 1st feature FILM
DIRECTOR : Nana Mensah
PRODUCERS : Jamund Washington & Baff Akoto
FILM : PORTO MON AMOUR (Drama) – 1st feature FILM
DIRECTOR : Gabe Klinger
PRODUCERS : Nicolas R. de la Mothe, Sonia Buchman & Rodrigo Areias
FILM : MA (Experimental) – 1st feature FILM
DIRECTOR : Celia Rowlson-Hall
PRODUCERS : Riel Roch Decter & Sebastian Pardo (MEMORY
USinP Wrocław 2014
FILM : HOMEFRONT – 1st feature FILM – winner of award US in Progress Wroclaw
DIRECTOR : Sofia Rosenzweig, Tyler Walker and Fidel Ruiz-Healy
PRODUCERS : Tyler Walker and Fidel Ruiz-Healy
FILM : TAKE ME TO THE RIVER – 1st feature FILM
DIRECTOR : Matt Sobel
PRODUCERS : Matt Sobel
FILM : STINKING HEAVEN – 6th feature FILM
DIRECTOR : Nathan Silver
PRODUCERS : Rachel Wolther
FILM : GOD BLESS THE CHILD – 1st feature FILM
DIRECTOR : Robert Machoian & Rodrigo Ojeda-Beck
PRODUCERS : Robert Thomas, Laura Heberton
FILM : NAKOM – 1st feature FILM
DIRECTOR : Travis Pittman and Kelly Daniela Norris
PRODUCERS : Isaac Adakudugu
FILM : PANGEA (aka FLYCATCHER – 2nd feature FILM)
DIRECTOR : Malcolm Murray
PRODUCERS : Liz Tran
USinP Paris 2014
FILM : Creative Control (Drama) – 2nd feature FILM/ Winner USIP Paris
DIRECTOR : Benjamin Dickinson
PRODUCERS : Mark De Pace, Zachary Mortensen, Melody C. Roscher (Simon Killer), Craig Shilowich (Stand clear of the closing doors)
FILM : Automatic at Sea (Drama) – 2nd feature FILM
DIRECTOR : Matthew Lessner
PRODUCERS : David Gerson
FILM : Eugenia & John (Drama) – 2nd feature FILM
DIRECTOR : Hossein Keshavarz
PRODUCERS : Chad Burris (The Killer Inside Me), Amy Durning
FILM : Winning Dad (Drama) – 1st feature FILM
DIRECTOR : Arthur Allen
PRODUCERS : Case Barden
USinP Wrocław 2013
FILM : LAKE LOS ANGELES (Drama) – 3rd feature FILM/ Winner USIP Wroclaw
DIRECTOR : Mike Ott
PRODUCERS : Athina Rachel Tsangari
FILM : SUMMER OF BLOOD (comedy/horror)
DIRECTOR : Onur Tukel
PRODUCERS : Onur Tukel, Melodie Sisk, Clifford McCurdy, Matt Grady, Max Heller
FILM : SUN BELT EXPRESS (comedy) – 1st feature FILM
DIRECTOR : Evan Wolf Buxbaum
PRODUCERS : Noah Lang, Arun Kumar, Evan Wolf Buxbaum, Iyabo Boyd
FILM : WILD CANARIES (Comedy) – 1st feature FILM
DIRECTOR : Lawrence Levine
PRODUCERS : Kim Sherman, Sophia Takal
FILM : SOME BEASTS – 1st feature FILM
DIRECTOR : Cameron Nelson
PRODUCERS : Ashley Maynor
FILM : HAPPY BABY – 1st feature FILM
DIRECTOR : Stephen Elliott
PRODUCERS : Jessica Caldwell
USinP Paris 2013
FILM : 1982 (Drama) – 1st feature FILM/ Winner USIP Paris
DIRECTOR : Tommy Oliver
PRODUCERS :
FILM : BFE (Dramatic Comedy) – 1st feature FILM/ Special Mention USIP Paris
DIRECTOR : Shawn Telford
PRODUCERS : Mark Carr
FILM : PING PONG SUMMER (Comedy) – 3rd feature FILM
DIRECTOR : Michael Tully
PRODUCERS : Brooke Bernard , Michael Gottwald, Billy Peterson, Ryan Zacarias
FILM : I BELIEVE IN UNICORNS (Drama) – 1st feature FILM
DIRECTOR : Leah Meyerhoff
PRODUCERS : Heather Rae (Frozen River, Black Eyes Dog)
FILM : CHILDREN (Drama) – 2nd feature FILM
DIRECTOR : Jaffe Zinn
PRODUCERS : Jon Watts
USinP Wrocław 2012
WROCŁAW 2012
FILM : HIDE YOUR SMILING FACES (Drama) – 1st feature FILM/ Winner USIP Wroclaw
DIRECTOR : Daniel Carbone
PRODUCERS : Matthew Petock, Zachary Shedd, Jordan Bailey-Hoover
FILM : I USED TO BE DARKER (drama) – 3rd feature FILM
DIRECTOR : Matt Porterfield
PRODUCERS : Steve Holmgren & Ryan Zacharias
FILM : BLUEBIRD (drama) – 1st feature FILM
DIRECTOR : Lance Edmands
PRODUCERS : Kyle Martin, Sundance Creative Producing Lab title
FILM : AMERICAN MILKSHAKE (Comedy) – 1st feature FILM
DIRECTOR : David Andalman & Mariko Munro
PRODUCERS : David Andalman & Mariko Munro
FILM : RUNOFF (aka CANTUCKEE – Drama) – 1st feature FILM
DIRECTOR/WRITER/EDITOR: Kimberly Levin
PRODUCER : Kurt Pitzer
FILM : A SONG STILL INSIDE (Drama) – 1st feature FILM
DIRECTOR : Gregory Collins
PRODUCER : Patricia Beaury & Rodrigo Lopresti
USinP Paris 2012
FILM : A TEACHER (Drama) – 2nd feature film/ Winner USIP Paris
DIRECTOR : Hannah Fidell
PRODUCERS : Kim Sherman (You're Next, Wild Canaries, Sun Don't Shine)
FILM : I AM I (Drama) – 1st feature film/ Special Mention USIP Paris
DIRECTOR : Jocelyn Towne
PRODUCERS : Cora Olson, Jennifer Dubin
FILM : HOUSE OF LAST THING (Fantasy/Thriller) – 3rd feature film
DIRECTOR : Michael Barlett
PRODUCERS : Jon Manning, Rene Berndt
FILM : DESERT CATHEDRAL (Drama) – 1st feature film
DIRECTOR : Travis Gutiérrez Senger
PRODUCERS : Michael MJ Mouncer, Chip Hourihan (Frozen River)
USinP Wrocław 2011 (then Gotham in Progress)
FILM : NOT WAVING BUT DROWNING (Drama) – 1st feature FILM/ Winner award USIP Wroclaw
DIRECTOR : Devyn Waitt
PRODUCERS : Nicole Emmanuele
FILM : NOW FORAGER (Drama) – 1st feature FILM/ Special mention USIP Wroclaw
DIRECTOR : Jason Cortlund & Julia Halperin
PRODUCERS : Julia Halperin
FILM : STONES IN THE SUN (Drama) – 1st feature FILM
DIRECTOR : Patricia Benoit
PRODUCERS : Karin Chien & Ben Howe
FILM : SUN DON'T SHINE – 1st feaure FILM
DIRECTOR : Amy Seimetz
PRODUCERS : Kim Sherman
FILM : WHEN THE WORLD IS ON FIRE (Drama) – 1st feature FILM
DIRECTOR : James Clauer
PRODUCERS : Ryan Zacharias & John Maringouin (Running Stumbled, Big River Man)